Focusing on the ideology of 'what isn't measured can't be improved', we keep a track of your presence on the digital space and devise action plan to improve it.
Both Search Engine Optimization (SEO) and App Store Optimization (ASO) add to the possibilities of greater discoverability during searches on search engines and in app stores respectively. We offer end-to-end SEO and ASO services which let you to improve visibility of your website and mobile application respectively. Our analytics team goes through rigorous research to find out organic keywords to increase traffic and CTR on the web search, and also drive download conversion rate on the app stores.
Search Engine Optimization (SEO):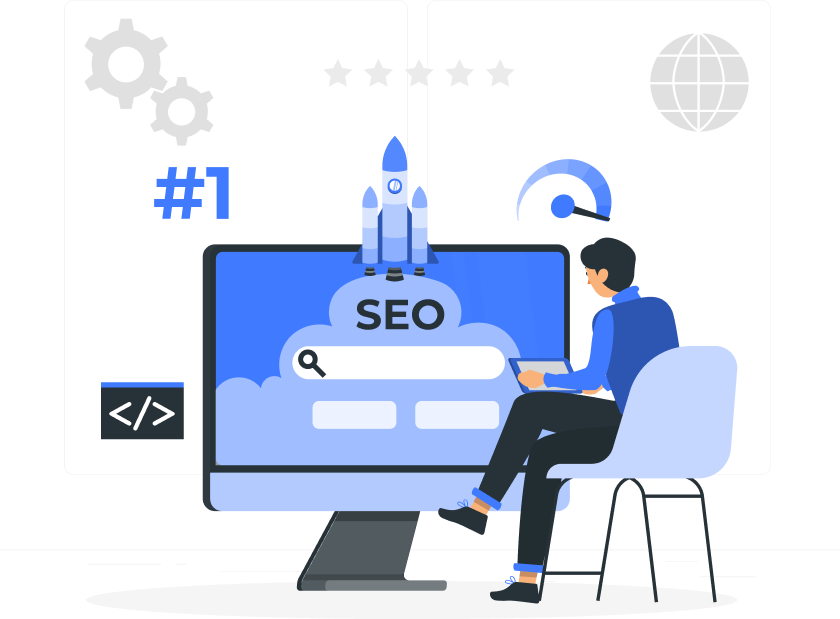 Our SEO services let you target customers from and across your area for extra traffic and increased sales. With our dedicated SEO experts you can grow your online visibility among your preferred netizens.
If you are striving for finding a partner who can handle SEO operations and run campaigns to boost your online visibility, website ranking, and organic traffic AlphaDigi is here for you. We are a top-ranked SEO agency in India working with a proven track record and delivering top-quality SEO Solutions.
We believe in putting extra efforts to pull off your business objectives with our best-in-class SEO services are aimed at combining the most advanced SEO tools, and proven organic strategy. AlphaDigi's customized SEO plans are designed exclusively to bring your website on top of search results in Google organic ranking.
Our SEO Tool-kit:
With our SEO services tool-kit, we focus on covering every aspect of having a well-built online presence. To make sure that your potential customers can trace you with ease on the internet we perform a wide-ranging tasks such as keyword ranking on SERPs, better website optimization, and alike.
Why SEO Services from AlphaDigi?
Top ranked SEO company in Pune, Maharastra, India
Experience Team
All-inclusive SEO Services
24/7 Live Support
Periodic Reporting
App Store Optimization (ASO):
With the arrival of mobile apps in almost every domain as first choice information source for people, App Store Optimization services are in great demand at present and will continue to be in time to come. Whether you admit or not, each of the online business needs ASO services to get more downloads and good traffic to their respective app.
In simple words, App Store Optimization (ASO) can be defined as the process of improving an app's listing on the iOS App Store for iPhone, the Google Play Store for Android Phone and Windows Store for Windows Phone. With countless apps hosted on each of these app stores contending to get better rank, you can use our ASO services designed to be of assistance to be the front runner in the competition and getting the most of downloads.
Well, the calculation is pretty straight, "More Visibility +More Organic Traffic = More New Installs", and in this context, AlphaDigi Solutions is just the right agency to avail the best ASO Services in India. We help you to get higher views, increased organic traffic and thereby more number of downloads and fresh installs.
In addition to that we keep a track of trending keywords used for search in your app category and thus driving high search traffic. We also optimize your rank performance having used superior tools to monitor relevant keywords, search rankings, and carry out competitor analysis. Our tech-team methodically study the architecture of your app including its size, title, icons and screenshots, alongside the app downloads and crash rate while analyzing reviews/ratings.
Why reach out to Us for ASO?
Top ranked ASO agency in Pune, Maharastra, India
Extensively experienced & professional Team
Usage of best ASO tools
Periodic Reporting System
Cordial Relationships with best App Development companies
For exhaustive analysis of your mobile app or your website and thereby formulating an exceedingly effective ASO/SEO strategy, contact AlphaDigi today.